Smart1095 Will Walk You Through the Process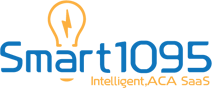 Gathering Data
Most of the data that's needed
exists in your payroll system.
Just add a few fields and upload your
data. Your forms can be mailed to
employees within 2 business days.
Validating Data
Smart1095 helps mitigate IRS penalty
risks by comparing critical dates to identify
data errors, which you can easily correct.
It also audits benefits eligibility to
make sure inactive employees are not
receiving costly healthcare benefits.
Printing and E-Filing Choices
You choose how you want your forms
printed and mailed: Either download a
PDF to print and distribute to employees,
or let us mail them from our HIPAA-
compliant service center. We also e-file
the forms along with your 1094-C
transmittal directly to the IRS.
Full service preparing, e-filing, printing, and mailing starts at $1995 for up to 250 forms.
Need help responding to IRS Letter 226J? Learn more here.